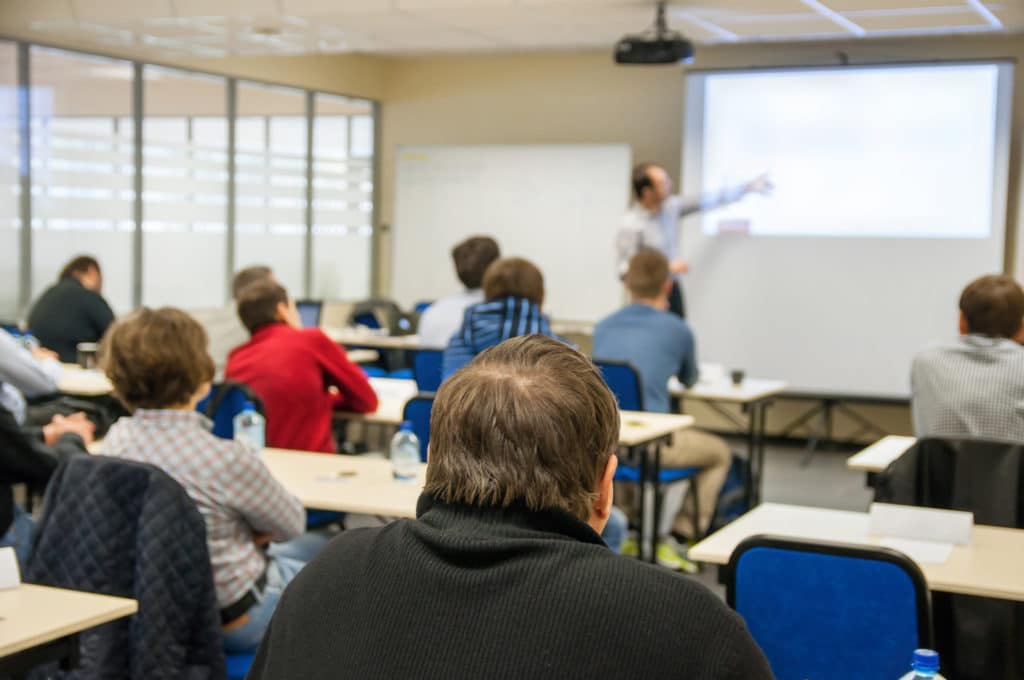 PMP Certification Exam Prep Boot Camp
One way to enhance your career value is by obtaining Project Management Professional certification. Nowadays, most business employers prefer hiring candidates with a PMP Certification on their resume. Obtaining this certification can help you stand out from the rest of the applicants. If you want to advance your career as a project manager, then you should consider attending PMP boot camp to solidify your skills.
Find a PMP Class Near You
What is PMP Boot Camp?
Boot camp will help get you ready to take the PMP certification exam. During this intensive course, you will study everything needed to pass the exam on your first attempt. You will under undergo an instructor-led course and receive additional access to web-based video lectures. Since everyone learns differently, this unique version of boot camp gives each student a variety of PMP exam prep materials to study.
Some of the study materials that students will receive include the following:
Strategy guides
Reference charts
A Realistic practice exam
Sample questions
Exercises and games
What All Does a PMP Class Entail?
This comprehensive course covers every subject that you need to know to pass the certification exam. For example, you will spend time learning about project management framework and integration management. During the course, you can even take a realistic mock exam. Taking this mock exam will help prepare you for the real exam. Those who take practice exams tend to experience less stress when they take real exams because they know what to expect.
You will learn the following material during PMP training:
Project time management
Project cost management
Project scope management
Professional responsibility and ethics
Project quality management
Project Risk management
Human Resource Management
Project procurement management
Project communication management
How a PMP Class Can Save You Time
Preparing for a PMP exam is difficult and time-consuming. Before you can even take the exam, you must meet one of the following prerequisites.
Have a bachelor's degree and at least three years of project management experience.
Have a high school diploma and at least five years of project management experience.
Once you meet the prerequisites, you can save yourself time and worry by taking a PMP training course. As soon as you register for the course, you can immediately start using the online training material. Instead of wasting time creating study material, you can spend your time reviewing the provided information so that you can pass the certification exam on your first try.
Why Employers Prefer Hiring Certified Project Managers
Today, companies are hiring more certified project managers than they have in the past. You can look at IBM's Project Management Center of Excellence as an example. This technology giant employs 300,000 people. Of those 300,000 staff members, 25,000 of them are project management professionals. Of those 25,000 project management professionals, more than half of them hold PMP credentials.
IBM and other companies are hiring more certified project managers because that is whom their clients prefer. In fact, many clients are now requesting certified project managers to take part in the proposal. These clients understand how important experience is when it comes to a project manager's ability to deliver a successful project.
In 2008, the Project Management Institute found that many non-certified project managers fail to complete projects on time and on budget. Companies that have less 10 percent of certified project managers on staff often miss project deadlines. There appears to be a link between PMP certification and improved project performance.
Why Project Managers Seek Certification
Earning certification does not necessarily make you better than a non-certified project manager. With that said, you can still benefit both personally and professionally from receiving additional training. Investing in yourself is always time well spent. While it takes time and dedication to undergo PMP training, you will get better at your job. Certified project managers tend to receive better performance evaluations than non-certified project managers.
More Pay and Better Job Opportunities
Having a PMP certification can earn you a higher salary and more job security. On average, PMP-certified project managers make $10,000 more per year than non-certified project managers do. Getting certified helps show employers how committed you are to working in the project management field. Without the certification, employers may automatically toss your resume to the side in favor of other candidates. In fact, the number of CIOs who would rather hire certified project managers than non-certified project managers grew from 21 percent in 2005 to 31 percent in 2009.
If you are ready to start preparing for the PMP certification exam, please contact us to schedule a class or to learn more about our program.